APS Delivers Innovation with Their Case Packer with Patented Flap Control Device
The new case packer was designed specifically for the US market and can alternate between high-use re-shipper cases and cases formed by a case erector machine. The machine is easy to use and can change format operations quickly. The picking head is able to self-adjust based on the format you need, and the flap control system can easily adjust and can accommodate both 6 and 12 packs with automatic change format from the machine touch screen.
Alberto Migliardi, CEO of APS Packaging Packaging USA, notes that, "The case packer is ideal for wineries and co-packers offering high productivity and ROI while saving labor costs via automation. Automation within the industry will be growing over the next few years." Alberto predicts, "This machine is just one example of how automation can help our customers maintain their competitive edge and reduce time-to-market. We are very focused on wine and spirits, and we aim to always deliver the best machinery for our customer's needs and provide excellence in technical service."
Production Automation benefits include:
MANAGE COSTS: Making a product available in a cost-effective way sets successful businesses apart from the
competition.
REDUCE WORKPLACE INJURY: If robots perform the risky function of palletizing and preparing items for shipping, you remove potential risk of injury to employees.
INCREASE PRODUCTIVITY: Allows companies to leverage ingenuity and efficiency while maintaining quality. Handling products, picking and placing items, packing cases, and palletizing become routine and save on time and labor.
MAXIMIZE STAFF: Automation can take the human being out of the process while increasing productivity. This does not eliminate the need for good staff. Instead, it provides an opportunity to remove the repetitive, unskilled tasks that many humans find boring and unfulfilling yet are critical to meeting production needs. Automation is the key to a shorter workweek.
MORE FLEXIBILITY: By incorporating robotics and automation, a line operator or machinist can change the bottle type, cap or product delivery (case or pallet) far quicker than a manual process.
HIGHER ACCURACY: Pick-and-place robots are outfitted with slim arms and wide reach. They are built with sturdy repeatability and precise tooling making them extremely accurate.
INCREASE QUALITY & CONSISTENCY: Modern robotic packaging machines are capable of improving the product quality as well as cycle time. As their movements are standardized quality of packaging improves and operations become seamless.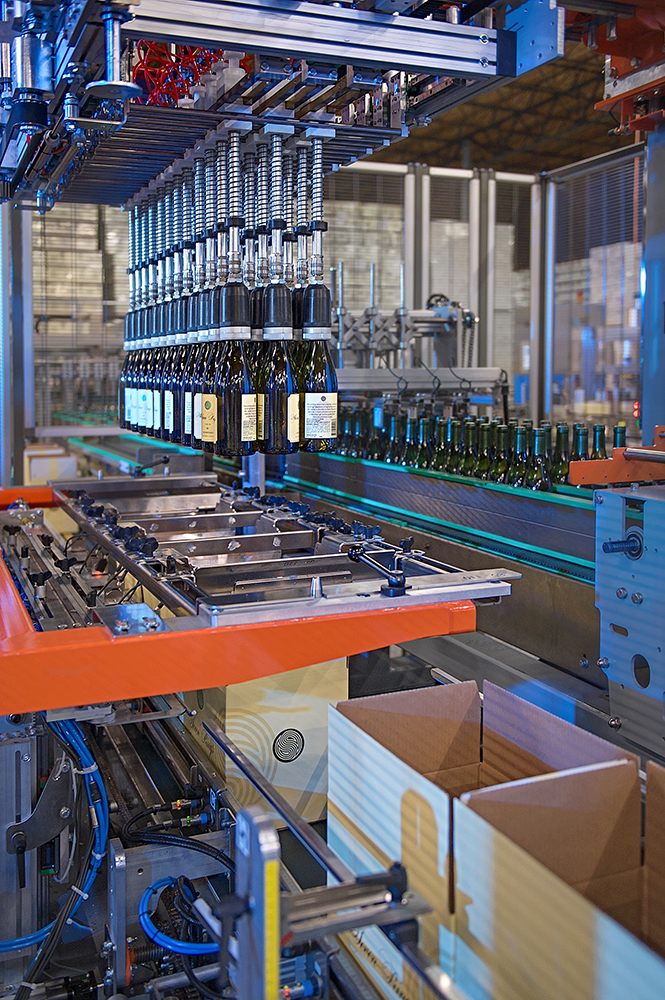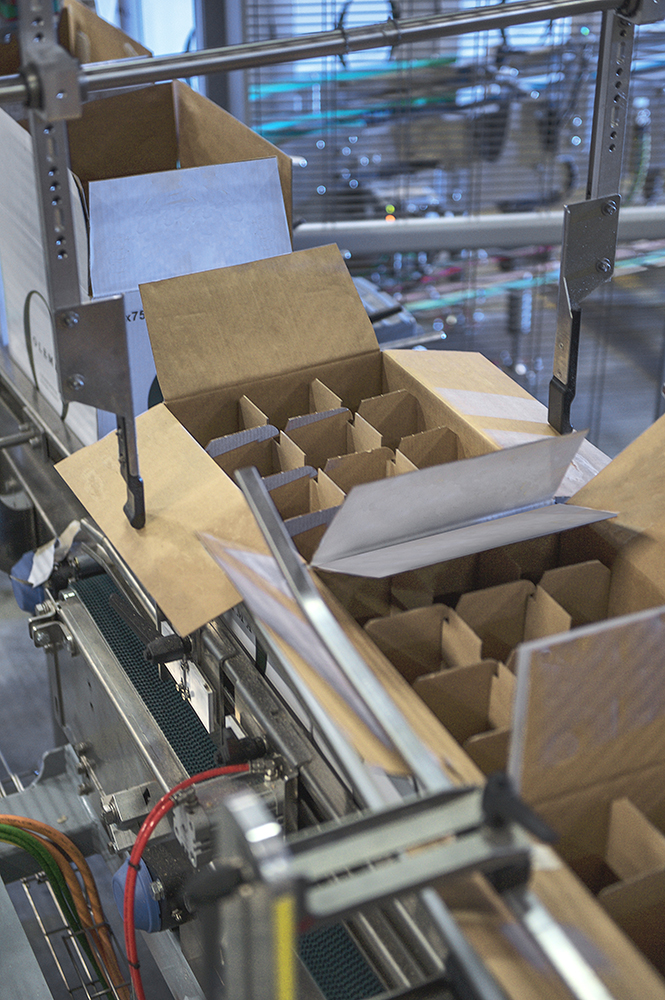 APS Packaging Packaging USA is the American arm of APS Packaging Packaging, an Italian based company specializing in bottling, packaging and robotic equipment for the wine, spirits and beverage industries. With locations in 14 countries on 6 continents, APS Packaging is a world leader in the bottling and packaging market. In order to serve the US market, they opened their US headquarters in Sonoma County to maintain their equipment and deliver on their commitment to after- sales service for their US customers.
They provide consulting, planning, engineering, integration, automation, installation, and commissioning of equipment. More than that, they provide world-class solutions that maximize efficiency and flexibility while ensuring accuracy and consistency.
APS Packaging has shown its commitment to their US clients by creating a separate manufacturing unit in their 150,000 sf plant in Italy. This dedicated facility ensures that all equipment is produced in house and complies with all US codes and standards. In addition, the MTS (APS Technical Support) based in Santa Rosa, has been created solely to provide technical support to its customers.
"We provide all of the support our customers need in design and delivery, but more than that, they need to know we have boots on the ground. If they have a problem or question, they speak directly to experienced technicians – no third-party maintenance guys or waiting to hear back from someone in Europe – just fast and efficient service from superb technicians," says Alberto.
For more information on APS Packaging Packaging USA, go to maspackusa.com or to contact directly, email [email protected] or [email protected] if you would like to set up a meeting to answer all your questions.